ESP-01S RGB LED v1.0 Arduino demo code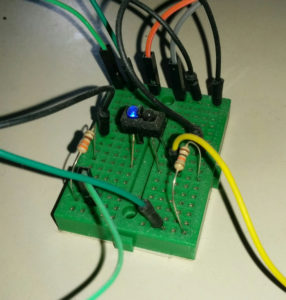 | Cor | Ligação |
| --- | --- |
| Laranja | 5V (inicio) |
| Verde | 5V (continuação) |
| Cinza | GND (inicio) |
| Preto | GND (continuação) |
| Amarelo | saida do sensor |
Saida do sensor indica valor de cor entre branco e preto. Caso usado como sinal digital, apenas valor binario preto ou branco mas se usado como sinal analógico variações entre branco e preto.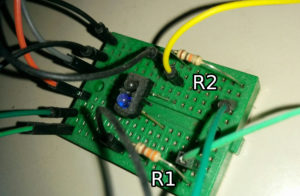 | Resistor | Resistência | Detalhe |
| --- | --- | --- |
| R1 | 330R (laranja, laranja, marrom) | |
| R2 | 10KR (marrom, preto, laranja) | Define sensibilidade do sensor, detalhes veja na referencia zerokol ou datasheet |
Referencias:
KeySweeper (http://samy.pl/keysweeper) is a stealthy Arduino-based device, camouflaged as a functioning USB wall charger, that wirelessly and passively sniffs, decrypts, logs and reports back (over GSM) all keystrokes from any Microsoft wireless keyboards (using proprietary 2.4GHz RF) in the area.